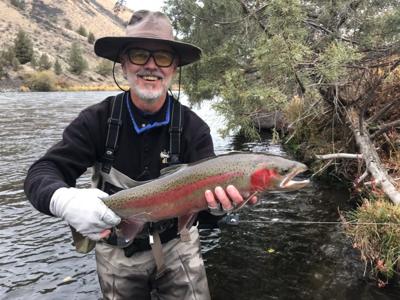 My latest column appeared in the Bend Bulletin today. Once again, I appreciate their increased coverage of local conservation issues and occasionally letting me submit something. If you don't have a subscription or have used you your free views for the month, here's the text.
---
The Bulletin recently ran a column titled "Central Oregon Crossroads: Are we moving fast enough to protect our waterways?". I always appreciate water articles and commentary, but the column did not address numerous local issues. Here's a brief, partial overview.
Irrigators use somewhere between 85% and 90% of local water supplies. That water is mostly diverted out of rivers and supplied via canals dug into porous lava rock with a significant percentage lost to seepage and evaporation. Importantly, only part of that seepage returns to the aquifer and only after first reducing flows in a river.
Primarily at taxpayer expense, main canals are being piped, but this is a process that will take decades at an estimated cost of approximately one billion dollars. There are no plans to significantly pipe the "lateral" canals which transmit water from the main canals to irrigators.
While some irrigators have installed efficient irrigation systems, many have not. For example, Central Oregon Irrigation District, the largest of the local irrigation districts, has a System Improvement Plan which states that 25% of their "patrons" still use flood irrigation. This is a highly inefficient distribution method first developed in Mesopotamia over 5,000 years ago. Further, significant end spills (excess water running out the end of canals), continue.
End spills and agricultural runoff introduce pollution and raise water temperature in local rivers, especially the Crooked River. A water quality study released by Portland Gas and Electric, operators of the dam that creates Lake Billy Chinook, identified pollution in the Crooked River as a major source of degraded water quality in the lake and the Lower Deschutes River.
Deschutes County tax policy can also be a source of water waste. Land categorized as Exclusive Farm Use can get dramatic tax breaks even if the land has essentially no agricultural use or value. This leads some landowners to "water rocks", as the saying goes, simply to use their water, maintain their water right, and receive a tax break.
In the county, "exempt" wells can be drilled with no metering or monitoring. I have such a well, and while the rules say I can only water ½ an acre, there is no measurement of how much water I pump and there are no usage costs. Exempt wells are a small part of the problem, but essentially all new development in the basin uses groundwater.
In a 2013 report, the US Geological Survey stated that local groundwater has been dropping more than one foot a year since at least the mid-1990s, primarily due to a drying climate. This rate has certainly increased as drought conditions become the norm, glaciers disappear, the snowpack shrinks, and population growth increases demands on a diminishing resource.
It may not be obvious to you yet, but we are already in a water crisis that will undoubtedly get worse. While the catastrophic ecological damage in the Upper Deschutes above Bend may be partially ameliorated due to recent changes by irrigators required by the Endangered Species Act, the Middle Deschutes below Bend, the Crooked River, and Whychus Creek remain on life support due to low water levels and elevated temperatures.
As readers of the Bulletin already know, farmers in North Unit Irrigation District around Madras have some of the most productive farmland in Central Oregon but have junior water rights and this year they will again have to leave some of their lands out of production due to lack of water. What you may not know is that many domestic wells are also going dry and local cities have limits on their ability to pump for municipal use. A shrinking aquifer also impacts local springs which nourish wildlife and recharge rivers.
Water availability, quality, allocation, usage, and monitoring are important issues in Central Oregon today, and will likely be critical in the foreseeable future. Without public demand for reform and strong political leadership, however, solutions will not be implemented.